SIDE BAND SEED OPENER
Fits: Bourgault PHD
Fertilizer Type:
Granular N (680-ASY-0711G / 0712G)
Granular N + Liquid Phos (680-ASY-0711GP / 0712GP)
Liquid N (680-ASY-0711L / 0712L)
Liquid N + Liquid Phos (680-ASY-0711LP / 0712LP)
Seed Placement: The seed is placed in a 3/4" (19mm) band onto a firm, unfractured seedbed. The GP & LP openers deliver the liquid phos below the seed.
Fertilizer Placement: Fertilizer is delivered in a band off to the side (right or left) on the same level as the seed. In less than ideal conditions, mixing between seed and fertilizer may occur. For more information please refer to precautions & risk factors.
Disturbance: Unique design of the tip provides low disturbance, low draft, and smoother fields.
Tip Options: Replaceable cast chrome tip (612-TIP-0711 & 612-TIP-0712) with carbide inserts on the nose and the wing for excellent penetration and wear resistance. Narrow carbide cutting edge on the wing for exceptional penetration. Assemblies include the tip.
Packer Recommendations: 2-1/4" (57mm) or wider.
Overview: Hard facing is placed on critical wear points to ensure a long-lasting holder and proper seed placement. The streamlined holder design reduces plugging and allows for better trash clearance.
Notes: Installation bolts sold separately. Use 3/8″ x 2-1/4″ Grade 8 carriage bolts.
When installing use bolt holes pictured below.
All wings on Side Band openers must be pointing inward to the center of the seeding unit to prevent plugging when turning. Customers should order half left and half right wing openers. 
For a more detailed view check out the expanded drawing.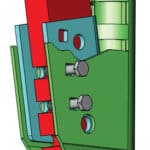 *All product and company names are trademarks™ or registered® trademarks of their respective holders. Use of them does not imply any affiliation with or endorsement by them. Bourgault, Bourgault PHD, Bourgault 3330 and 3335 and any other use and/or mentions of their name and/or product designations are the property and registered trademarks of Bourgault Industries Ltd. For more information please view our Legal Notice.