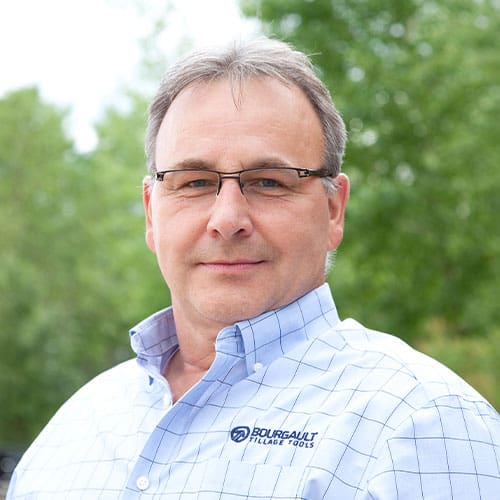 Assistant Sales Manager / Manitoba Territory Manager
A dedicated farmer his entire life, Corny is our Assistant Sales Manager/Manitoba Territory Manager. He also oversees development of new territory in Washington, Northwest Idaho and Northern Oregon.
Corny has been with us since 2008 and brings 25+ years of ag experience to our team. A third-generation farmer, Corny continues to operate a mixed family farm in Northwestern Manitoba with his brother.
After completing high school in Dauphin, MB, Corny continued on to obtain his Red Seal as an Agricultural Equipment Technician. He spent four years as an agricultural technician before becoming a hydraulic specialist.
In 1992, Corny designed and created the dedicated hydraulic systems for Versatile and Steiger tractors to run the fans on air seeder carts. He also designed and developed systems for other makes of tractors, becoming well known across North America for his expertise with hydraulic systems.
Corny's creativity also led to the design of a hydraulic system for the Russian built Kirovets tractor, providing the opportunity to travel to Ukraine. While there he installed and oversee the operation of this system which led to sales in Russia and Kazakhstan.
While specializing in hydraulics to operate air seeders, Corny expanded his knowledge and expertise with a team approach and has developed many varieties of seeding openers and fertilizer knives as the move towards no-till, or direct seeding, began.
Corny's experiences and travels have built relationships with many farmers, dealers and manufacturers across North America and Europe. 
Holiday time away from BTT is used to operate the family farm and on the VERY rare occasion take a winter trip with his wife. "Seeding and harvest are vital to the agricultural industry and BTT is very understanding of the important role I have during these seasons. Not every company would respect the agricultural demands and allow for time away from work to support the ongoing involvement in my family farm. It is tremendously appreciated to be able to take time off from work during this busy time."
Corny and his wife have two daughters and one granddaughter, with their second grandchild on the way. Corny comes from a strong Ukrainian background and enjoys preserving the Ukrainian traditions and culture.
Corny is our go to guy that seems to have an answer for whatever we throw at him. While he may fool some with his serious expressions, he is a jokester at heart and keeps us on our toes.
P 1.800.878.7717 ext 253
C 204.724.2012
E corny@tillagetools.ca